Manjin Park
Manjin Park is a vibrant community precinct located just off Mottram Street in Manjimup. The Park boasts a multitude of facilities including a multi-purpose recreation plaza, children's playground, outdoor gym, barbeque and picnic facilities, accessible public toilets, RV dump point and ample parking for long vehicles. With attractions for all users, from toddler age to adult, and beginners to advanced, Manjin Park has become a popular attraction for residents and visitors alike.
Significant path networks run adjacent to the Park with linkages to the CBD, and other iconic locations such as the Manjimup Heritage Park and Deanmill Heritage Trail. Paths also connect the north, south, east and west of the Manjimup town site to this lively hub.
Construction of the Park was a key component of the Manjimup Town Centre Revitalisation Project Stage II with works beginning in October 2017. Thanks to funding from Lotterywest and the State Government's Royalties for Regions program, the Park was completed in February 2018.
Things to do when visiting Manjin Park
The Rec Plaza includes a multi-purpose, multi-generational facility with amenities and fixed equipment that caters for several recreational activities including skateboarding, scooter riding and BMX riding. Suitable for users of all ages and levels of experience, the design is the result of a significant consultation process with Shire of Manjimup youth, community members and CBD business owners. The facility was designed and constructed by world renowned skate park designers Convic. It features a 3000 to 3600 high steep bank, 1.8m shallow bowl, 2.4m deep bowl, 900mm flat bank, a variety of bars, banks, pads, rails, and other skateable infrastructure. This space can be used in the evenings with floodlighting available until 10:30pm. To keep up to date with what's happening at the Rec Plaza visit the facebook page.
So that everyone can enjoy the space safely, please ensure you are familiar with the tips and rules.
The playground at Manjin Park is suited to younger children, with a number of climbing obstacles, a small slide and set of swings.
Challenge your mates to a game of 3 on 3 or just practice your basketball skills on the basketball half court located at the northern end of the Park. Complete with line marking, this outdoor facility is ready for some serious games of streetball or a casual shoot around between friends.
Enjoy a picnic or barbecue at the Park while your children scoot around. A barbecue is available for community use as well as a number of picnic tables, both sheltered and unsheltered.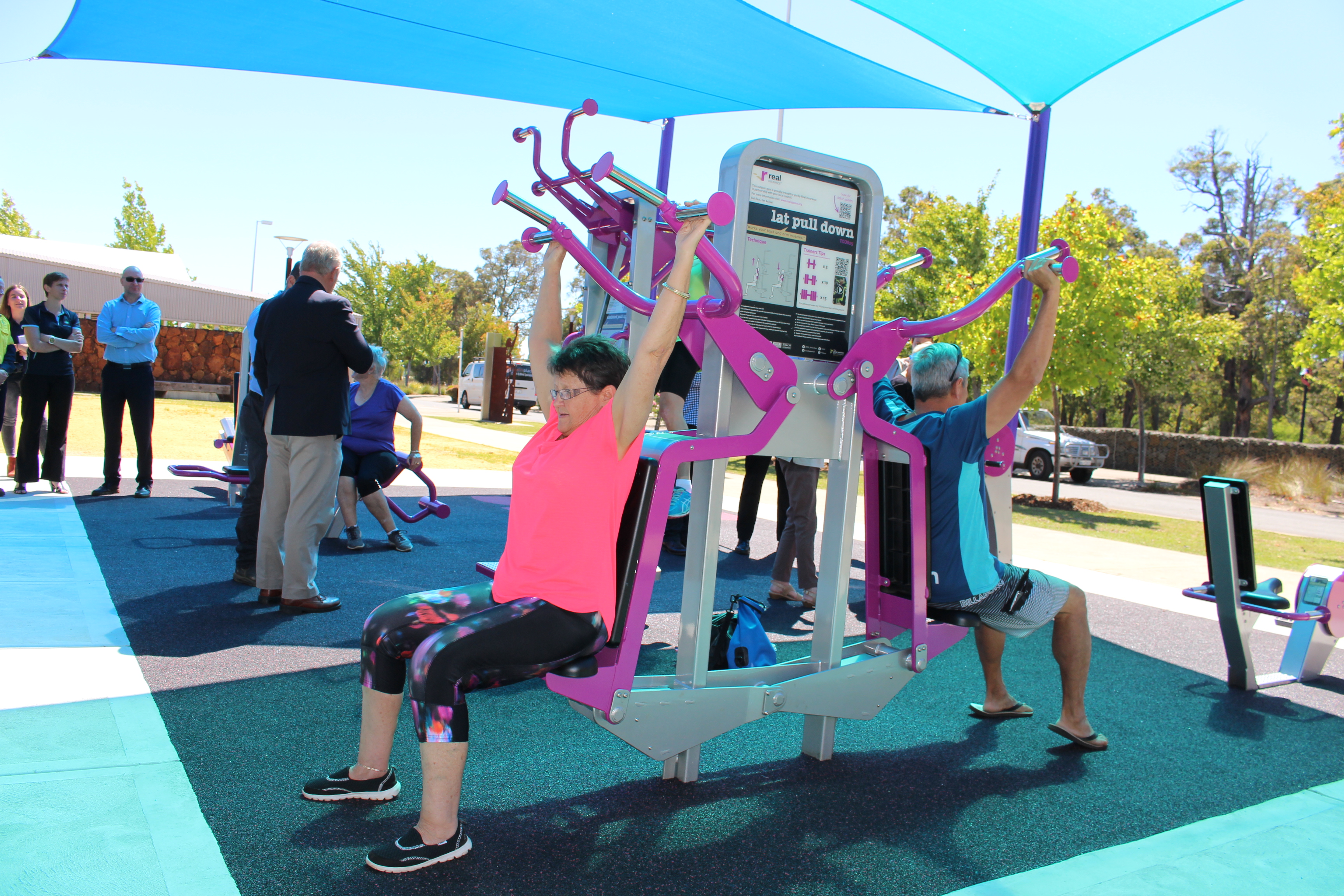 The realSpaces Outdoor Gym was opened in January 2018, and was made possible by a 50% funding contribution from Real Insurance. The gym has a variety of cardio and strengthening exercise equipment, including a cross trainer, recumbent bike, spin bike, hand bike, lateral pull down, shoulder press, pull up, assisted pull up, leg press and bench.