Early Years
Publications
Ten top tips for a great start to school - Going to school for the first time is a big event for you and your child! There are lots of things you can do to help your child prepare for school, and this brochure provides you with some suggestions.
What (or who) is the "Early Years"?
The Early Years refers to children aged 0-8 years old. It also includes parents, families, care givers and community groups in which children and their families are involved, as well as service and program providers aimed at this age group. Some examples of early year's services and programs are:
Education and care services (also known as 'childcare');
Playgroups;
Library services with activities;
Pre-kindergarten groups;
Child health clinics;
Positive parenting programs (Triple P, Circle of security);
Breastfeeding and infant information and support; and/or
3 and 4 year old Education Department programs.
Why do the early years matter?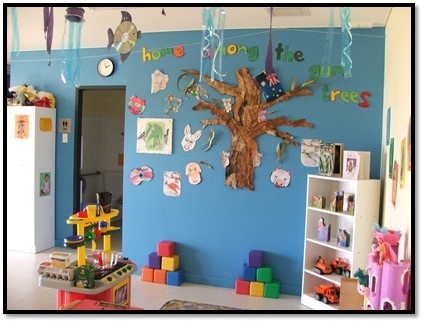 Research shows that the early years of development (from conception to age six) particularly the first three years, provide the basis for the development of competence, coping and emotional skills. These skills affect learning, behaviour and health throughout life. (Shonkoff and Phillips, 2000)
There is growing evidence that good nutrition, nurturing and responsive care-giving in the early years, combined with high quality early childhood development programs, can improve the long term outcomes for all children's learning, behaviour, and physical and mental health. (van der Gaag, 2002)
This new understanding of the importance of early childhood development has led to much greater focus at all levels of government on ways to improve support for children and their families.
What is an Early Years Strategy?

The Shire of Manjimup is committed to providing support to families and communities to ensure young children are given the best possible chance to learn, develop and achieve good mental and physical health. To achieve this vision, the Shire, in partnership with the Warren Blackwood Early Years Network, is developing an Early Years Strategy. This strategy will provide the framework to improve the health and wellbeing of the youngest members of our community.
An Early Years Strategy is a framework which provides direction for investment. Investment may be in the form of time, finance, building or resource provision and can come from a number of sources including but not limited to community groups, government departments, service providers and program providers. For instance, the Early Years strategy can:
Recognise a program that is doing well and identify what is necessary to keep it running;
Identify community needs, and what is required to achieve and prioritise these needs (this may be a program, a service or a facility);
Provide information for community members; and
Provide direction for service and program providers.(Planning and Developing an Early Years Strategy for Local Government Areas of Western Australia's South West Region, Louise Fischer and Kate Darcey)


Check out the Shire of Manjimup Directory for Families with Young Children here.