Youth Advisory Group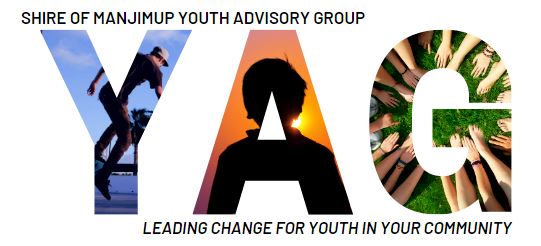 The Shire of Manjimup Youth Advisory Group (YAG) is a group of young volunteers who come together on a monthly basis to discuss youth issues and collaborate with the Shire of Manjimup.
YAG empowers its members to give a voice for young people, plan youth events, projects, and activities, create new opportunities to grow leadership and communication skills, and help build an inclusive, empowering and supportive community for young people.
YAG provides a forum for young leaders to positively impact and encourage youth engagement in their local community and promote positive change through advocacy and action on a wide range of youth issues.
For more information, please read the YAG Terms of Reference.
Why should you join?

Meet other motivated young people
Make a difference in your community
Create youth events and activities
Organise youth workshops & skill development
Develop leadership and communication skills
Add new skills and experiences to your resume
Make some new friends
Have fun
Who is it for?
The Shire of Manjimup Youth Advisory Group is looking for young people aged 15 - 24 who live, work or study in the Shire of Manjimup. We encourage individuals from all backgrounds to apply and there are no requirements for skills or previous experience in leadership roles.
When does it run?
The group meet on the first Thursday of every month from 4-6pm in Manjimup. We encourage members to attend meetings in person, alternatively you can attend online.
There will be opportunities to be part of working groups in the YAG for projects, events etc. based on what the group is passionate about. Being part of a working group is completely optional for YAG members and will likely require meeting more often.
Want to join?
Complete your online application here.
If you have any questions about YAG or the application process, please contact our Youth Development Officer on 9771 7752 or at youth@manjimup.wa.gov.au.
The Youth Advisory Group has been established and funded by the Shire of Manjimup Youth Engage and Empower Project.