Manjimup Trail Bike Hub
Introduction
The Manjimup Trail Bike Hub seeks to create a destination that embraces trail bike riding and becomes a significant visitor attraction in (and around) Manjimup. The Manjimup Trail Bike Hub concept is about delivering an overall experience that, while focused on the trails, also extends to every aspect of trail bike riding. These aspects include:
Planning: the information to enable potential visitors to organise their trip, including identifying the most suitable trails, appropriate accommodation and related activities.
Accommodation, restaurants, cafs and specialty retail: establishments that specifically cater to the needs of trail bike riders.
The Trails: trail development and diversity to suit different levels of skill and riding experiences sought.
The Services: guided tours, bike and equipment hire, fuel, accessories, parts and repair.
The Hub seeks to establish Manjimup as the centre for trail bike riding in Western Australia (and Australia). It will drive a considerable increase in tourism for Manjimup, from across Western Australia as well as from interstate and international markets. The Hub will include new trail development across a range of different trail bike rider types, but also put in place a management system that can conduct marketing to drive demand. The overall concept for the Hub moves beyond just the physical space of trails and trail bike riders riding them. It is about creating a destination that embraces trail bike riding, so there will be a range of support mechanisms, including accommodation, restaurants and cafes that cater for trail bike riders. The concept includes the development of speciality shops catering to trail bike sales, repair and maintenance. The Hub concept is about creating this overall atmosphere and delivering a complete visitor experience for trail bike riders.
The Manjimup Trail Bike Hub includes the following stages:
PreStage: Establish management and governance (COMPLETED)
Stage 1: Develop the Manjimup Adventure Bike Rider Experience
Stage 2: Develop the Manjimup Trail Bike Tourer Experience
Stage 3: Create private property family use facilities
Stage 4: Develop the Manjimup Single Track Explorer Experience
Stage 5: Develop the Manjimup Family Explorer Experience
Stage 6: Develop the Manjimup ATV and Side by Side Explorer Experience
Progress to date
In 2017, the Shire of Manjimup, assisted through funding by the Department of Local Government, Sport and Cultural Industries (DLGSC), undertook a feasibility study to develop and position Manjimup as Western Australia's first sustainable trail bike trails hub.
In 2018 and 2019, the Shire of Manjimup undertook the Pre-Stage phase of the project with the following outcomes:
The Manjimup Trail Bike Hub Inc. was established on 10 January 2019 by an Interim Executive Committee, and a logo for the Incorporation was developed;
Completion of Economic Impact Assessment;
Several project documents (Six Stage Implementation Plan and Kick Start Plan) were developed for the Implementation of the Hub;
In 2020 the Shire obtained funding from the Department of Primary Industries and Regional Development (DPIRD) for the development of a Business Case for all stages in order to be funding ready;
Commitment sought and obtained from Shire of Manjimup Council to contribute $576,500 towards a grant application for the implementation of the Hub;
Purchase of a centrally located block in Manjimup, on which a Trail Bike Hub trail centre will be established;
Announcement of successful funding application ($980,000) through the Commonwealth Regional Partnership Recovery Program for Stages 1, 2 and 4 of the Hub. See media release for more information.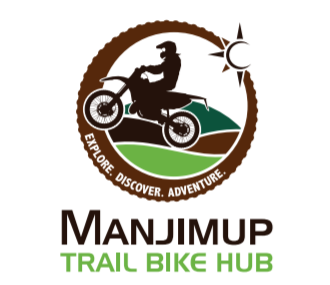 Stay up to date

Click here to register your interest in the project and receive progress updates.
Follow the Manjimup Trail Bike Hub on Facebook!
If you wish to discuss the project further, please call Evy Apeldoorn on 9771 7777 or email evy.apeldoorn@manjimup.wa.gov.au.