Coronavirus (COVID-19) Information
Contents
Shire of Manjimup Services
SafeWA contact tracing register
All visitors to Shire of Manjimup facilities are required to complete the SafeWA contact tracing register on arrival by entering their visit date and time and their contact details in the paper register or by using their smartphone SafeWA app to scan the QR code at the site (if available).
Events
Under Phase 5 of eased restrictions, all event formats in WA are now permitted without patron caps or the 2sqm rule. However, COVID Event Plans, Checklists and Guidelines remain important to reduce the potential risk and spread of COVID-19.
COVID Event Plans help mitigate the risk of COVID-19, are in line with health advice and provide extra confidence to patrons and staff entering the business premises. These measures, along with the State of Emergency and Public Health State of Emergency declarations, enable the State to ramp up and respond rapidly to any outbreak in the future.
If you are holding an event with more than 500 people, you will need to complete either a COVID Event Plan or COVID Event Checklist. The COVID Event Guidelines will help you develop your COVID Event Plan.
Category 1 Event: COVID Event Checklist (less than 2,500 patrons)
A COVID Event Checklist is required for events where the anticipated number of patrons is over 500 but does not exceed 2,500.
This simplified document must be completed, signed and submitted to the Shire along with all other relevant documentation required for an application to hold a public event. An authorised officer from the Shire will ensure it has been completed satisfactorily before an assessment of the event application is undertaken and final event approval can be granted.
Category 1 Events must still be registered with the Department of Health and the event organiser must hold or conduct the event in accordance with their COVID Event Checklist.
Category 2 Event: COVID-19 Event Plan (more than 2,500 patrons)
A COVID Event Plan is required for events where the anticipated number of patrons is more than 2,500. For more information on COVID Event Plans, see COVID Event Plans - Frequently asked questions.
The COVID Event Plan must be submitted to the Shire along with all other relevant documentation required for an application to hold a public event. This document will be considered in the assessment of the event application. Please note, the overall event approval may be withheld until the plan appropriately addresses infection prevention and control risks.
Category 2 Events must still be registered with the Department of Health and the event organiser must hold or conduct the event in accordance with their COVID Event Plan.
Please note, the Shire is also required to forward copies of COVID Event Plans for all events exceeding 5,000 to the Department of Health, a minimum of 4 weeks prior to the event occurring.
Contact Register Requirements at Events and Gatherings
Contact registers remain mandatory at all events over 500 people. Contact registers are also required for some gatherings of 500 people or less in public outdoor spaces (although it should be noted that COVID Event Plans or Checklists are not required for gatherings of 500 people or less).
Contact register requirements must be addressed in all COVID Event Plans and acknowledged as part of a COVID Event Checklist. Maintaining a contact register is an extra safety measure and one of the most effective ways to ensure rapid contact tracing to control the spread of COVID-19 in the event a case is detected in the community.
To facilitate contact tracing, the use of a QR code system, such as the SafeWA App, is highly recommended. If you choose to use another QR code, you must also clearly display the WA Government's SafeWA QR code. This will ensure that patrons are able to choose their preferred registration platform and facilitate the most effective and efficient collection of information for contact tracing purposes.
You must also make available a paper based register for those individuals who do not use a QR code. You are required to implement a contact register at your event, in addition to any ticketing system you may have in place. Experience from other jurisdictions indicates that reliance on event ticketing and credit card information during an outbreak provides incomplete contact records, delaying the contact tracing process. For example, an individual may buy multiple tickets for friends or family and not provide contact details for all patrons in attendance. Alternatively, tickets may be
It is also mandatory to collect contact details of staff, volunteers and contractors attending/working at the event.
Public Health Measures for Events
Event organisers and staff should implement the following public health measures:
promote physical distancing where possible
maintain hygiene standards and disinfection regimes
ensure staff are informed and trained to implement public health measures
ensure patrons are supported in maintaining the event's health measures
maintain attendance records of patrons and staff for the purposes of contact tracing; and
employ COVID Safety Marshals to ensure adherence to your COVID Event Plan or Checklist, where required. By implementing these public health measures, you can help mitigate the risks of COVID-19 and help keep our community safe.
MANDATORY CONTACT REGISTERS
It is mandatory for most businesses and venues to maintain a contact register by collecting details of patrons attending their premises, including customers, staff, contractors and visitors.
Having a contact register supports public health efforts to reduce the risk of an uncontrolled COVID-19 outbreak in WA. If a person tests positive to COVID-19, contact registers will assist the Department of Health to quickly and easily contact people who may have been in the same location, at the same time.
If you own/manage any of the following venues, you will be required to register contact details: -
food and licensed venues (restaurants, takeaway services, food courts, cafes, bars, pubs, taverns, nightclubs).
retailers (supermarkets, department stores, pharmacies, hardware and general retailers) and the retail components of other businesses (bank branches, post offices, manufacturing showrooms)
gyms, indoor sporting centres, wellness centres, health clubs and fitness centres
indoor play centres
swimming pool, both indoors and outdoors
places of worship, and funeral parlours
beauty and personal care services (hairdressers, barbers, nail salons, tattoo parlours, spa and massage parlours)
galleries and museums
cinemas, theatres and other entertainment venues (casino, gaming or gambling venues)
motor vehicles or boats which are capable of carrying 12 or more passengers and is used on a commercial basis for a party, tour or function
auction houses and real estate inspections
community facilities, libraries and halls
zoos and amusement parks
function centres
hotels, motels, campgrounds or other accommodation facilities that ordinarily have check-in arrangements
venues where events are held and certain outdoor functions and gatherings under 500 people (e.g. weddings, corporate functions, carnival, fetes, festivals, markets, funerals/memorial services).
public and private hospitals (visitors only – persons visiting patients or attending meetings/lectures, couriers, and contractors)
Planning and Development Applications
The Minister for Planning has in accordance with recent legislation changes issued an exemption for local planning approvals. By way of summary, the exemptions are as follows:
A blanket two-year extension to be granted for all current development approvals to assist job-creating projects during the recovery stage.
The following land uses do not require planning approval:
medical or health-related facilities required in response to the COVID-19 pandemic;
truck and logistic companies needing to deliver goods but currently with restricted loading and unloading times;
businesses seeking to adapt by changing their current approved use;
restaurants and cafes required to sell takeaway in contravention of current planning conditions;
people operating their businesses from residential zones;
the parking of commercial vehicles on residential properties;
businesses needing to change signage; and
provision of temporary workers' accommodation.
The Notice also temporarily waives any requirement to provide up to 10 car bays and/or cash in lieu for non-residential development, and allows local government authorities to advertise planning proposals solely on their websites. This exemption only applies once the Shire is notified within seven days of business commencement.
These exemptions are in place for temporary situations only, so brick-and-mortar applications are not included and the usual approvals will need to be sought in most instances within 90 days of the lifting of the State of Emergency.
A full copy of the State's media statement can be accessed here.
Windy Harbour Campground
The Windy Harbour Camping Ground is currently open subject to the following requirements:
When checking in, all patrons 16 years and over will be required to register their contact details by using the SafeWA QR Code provided OR by signing the paper-based mandatory contact register at the Caretaker's Office.
Patrons who refuse to scan/sign the mandatory contact register will not be permitted entry to the camping ground.
The Shire of Manjimup recommends that all patrons download the SafeWA App for the purpose of contact registration, prior to arrival.
Patrons are reminded that good hygiene practices must be followed at all times, particularly when using shared amenities and areas including ablutions, campers kitchen and playground.
Each campsite will cater for a maximum of six persons OR as directed by the Caretaker;
Bookings through the caretaker/site office will be essential.
Library Services
Shire's libraries are open with some minor restrictions:
Patrons aged 16 years and over who attend the Libraries (including patrons, staff, volunteers and contractors) will be required to register their contact details using the QR Code provided OR manual paper-based register;
Access to public computers (one-hour sessions) and printing available;
Book club timetables have returned to normal ;
The study hub is open with preference given to primary and secondary students and local writing and book club activities;
Study and reading spaces in main library are open.
Rhyme and Story Time sessions have recommenced at all Shire Libraries (during school term):
Northcliffe: Mondays at 10am
Pemberton: Thursdays at 10am
Manjimup: Fridays at 10.30am
Walpole: Fridays at 10am (every second Friday)
Like the Library on Facebook and Instagram to stay connected.
Manjimup Regional AquaCentre
The AquaCentre is now open with full services, and is operating in line with COVID-19 WA restrictions.
Our new permanent opening hours are:
Monday to Friday 6am to 7pm
Saturday and Sunday 9am to 5pm
Public holidays 10am to 5pm
Anyone who attends the AquaCentre will be required to register their contact details. This includes patrons, carers, teachers, volunteers, contractors and staff. Registering can be done by scanning or providing your details to the reception staff.
Unaccompanied children under 16 are encouraged but not required to register. Adults accompanying children under 16 are encouraged to register for them.
Contact registration details will be kept in a confidential manner.
Please note the Shire CEO direction is that attendees who do not comply with the above will be refused entry to the AquaCentre.
Fitness bookings are encouraged, please click here for the latest timetable.
You are able to use the fitness room unsupervised. Please sanitise equipment after use.
Creche remains open, bookings are essential.
You are expected to follow all social distancing rules.
Sanitising stations will be available around the facility.
For full details about the AquaCentre and their services click here.
Manjimup Home and Community Care
(MHCC) are continuing their services and support for seniors and vulnerable people in line with Government directives including shopping services and additional social support.
The Wellness and Respite Community Centre is open for limited access with sanitising and infection control rules in place.
Tai Chi has recommenced with a maximum of 10 people and appropriate social distancing applies.
MHCC respite house is open for business.
Contact MHCC on 9771 6900 if you require assistance.
Like the Manjimup Home and Community Care Facebook Page.
Wellness and Respite Community Centre
Facilities at the Wellness and Respite Community Centre are now available for hire.
Waste Services

At present all waste facilities are operating as normal; however, the following measures remain in place:
Waste Facility Protocols
The ongoing operation of our waste facilities (Manjimup Recycling & Refuse Centre and the transfer stations at Northcliffe, Pemberton & Walpole) is essential to the public health of all people in the Shire of Manjimup. You can assist in the ongoing protection of our waste facility services.
Every time you visit a waste facility you must:
at point of entry, provide your name and contact details for the COVID contract tracing register either by using the Safe WA phone app to scan the QR code or by completing the paper register. (This measure is a condition of entry to all Shire of Manjimup waste facilities, and applies to all persons aged sixteen years or older. No register: no entry.)
maintain social distancing, take care when coughing or sneezing, and maintain hand hygiene.
follow all instruction, whether given verbally by the site attendant or through signage installed by the Shire of Manjimup or its contractors.
If you have any concerns regarding COVID protocols at our waste facilities telephone the Shire of Manjimup on (08) 9771 7777 and ask to speak with the Waste Management Officer.
Shire of Manjimup Recovery Response
We have created a facebook group which aims to link the many social media platforms already activated and make it easier for people to connect with information they need.
In addition a recovery email has been activated being recovery@manjimup.wa.gov.au
COVID-19 Relief Fund
Due to the financial and emotional impact on people of the COVID-19 pandemic, Lotterywest opened up grants to Western Australian not-for-profit community organisations and local governments to support their clients and communities. COVID-19 saw an increased number of people within the Shire of Manjimup experiencing hardship, with more expected to do so within the next weeks and months. To assist the community, the Shire successfully applied to Lotterywest for a grant of $428,364 (excl. GST) to provide food, shelter, crisis accommodation, transport, gas bottles, firewood, and other emergency relief items.
The Shire has worked with existing charity organisations and support service providers in Manjimup, Northcliffe, Pemberton and Walpole to distribute support and emergency relief. Not only has the Emergency Relief fund supported those in need, but it has provided a boost for local businesses and the economies of the towns within the Shire.
With the initial impact of COVID-19 reduced, and restrictions being lessened, the Shire is now stepping back from front line delivery, transitioning the support role back to support service organisations and charities to provide emergency relief to the community. Essentially reverting back to pre COVID-19 practices with the additional remaining grant funding being available to assist these agencies with meeting the need of addressing genuine hardships that many have experienced as a result of the lockdown and restrictions period.
If you are in need please refer to the Community Support Directory which will direct you to the support agencies who may be able to provide you with assistance.
The G2G Now app is a tool that helps Police better protect the WA community by conducting remote checks on people in quarantine. The app uses facial recognition and phone location data to ensure people in quarantine remain at their registered address throughout their mandated quarantine period. Using the app allows for virtual, in-app check-ins during the quarantine period. This will complement existing arrangements by WA Police. When users receive a push notification to check-in, they have a 5 minute window to take a photo of themselves. The app then matches the photo and location with the person's registered details to ensure compliance with their quarantine direction.
People are wandering out yonder and exploring the natural beauty of our great state. While we're enjoying WA's natural beauty, visiting attractions and meeting new people, it's important that we look after each other.
There are more than 200 remote Aboriginal communities in Western Australia, across the Midwest, Gascoyne, Pilbara, Goldfields and Kimberley regions.
The residents of these communities are more vulnerable to COVID-19 than other Western Australians.
To help keep remote Aboriginal communities safe from COVID-19, there are strict travel restrictions in place. Tourists and travellers are not allowed to enter.
Some remote Aboriginal communities have applied for exclusions from the travel restrictions and they, or their amenities, are open to visitors.
Planning your trip well in advance will help you navigate remote areas and avoid entering restricted areas.
Mandatory Contact Registers

From Saturday December 5, mandatory contact registers will be required at particular businesses, as an extra COVID safety measure. This requirement has been instigated by the WA State Government under the State of Emergency principles as they are the most effective way to support the WA Health Contact Tracing Team to rapidly identify people potentially exposed to a confirmed COVID-19 case.
If you own/manage any of the following venues, you will be required to register contact details: -
food and licensed venues (restaurants, cafs, bars, pubs, taverns, nightclubs) COLLECTION OF TAKEAWAY NOT INCLUDED
gyms, indoor sporting centres, wellness centres, health clubs and fitness centres
swimming pool, both indoors and outdoors
places of worship, and funeral parlours
beauty and personal care services (hairdressers, barbers, nail salons, tattoo parlours, spa and massage parlours)
galleries and museums
cinemas, theatres and other entertainment venues (casino, gaming or gambling venues)
auction houses and real estate inspections
community facilities, libraries and halls
zoos and amusement parks
function centres
hotels, motels, campgrounds or other accommodation facilities that ordinarily have check-in arrangements
Contact registration is encouraged, but not mandatory for other businesses and gatherings.
The simplest way to record your details is by using the SafeWA App.
WHAT IS THE APP?
The State Government has released a free app, SafeWA, which will provide businesses with a digital COVID-19 contact register system, endorsed by the WA Health Department.
SafeWA includes key features such as unique QR codes for venues which can be scanned by patrons, staff, etc. to register their attendance. Businesses must also provide a manual contact register (either paper based or electronic) for people who do not have a smart phone or the SafeWA App downloaded on their phone. A template has been developed by the State Government and can be found here. Manual registers must be kept for 28 days and not used for any other purpose other than for contact tracing.
To assist you with the contact register process, please refer to the WA Government's COVID-19 coronavirus: Contact registers webpage here for key information and resources. It is strongly recommended that business owners/managers review the information provided for businesses and venues, in particular the contact registers FAQs.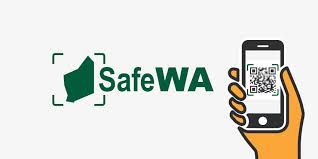 From 5 December 2020, particular businesses must maintain contact registers for WA Health Department COVID-19 contact tracing, if required.
If COVID-19 is detected in the WA community, contact registers help to protect us all by enabling the WA Health Contact Team to quickly identify and assist anyone that may have been exposed to COVID-19.
To help, the WA Government has developed a free app, SafeWA, which will provide businesses with a digital contact register system.
SafeWA is an efficient and safe way to record patron and visitor contact details where they can check-in, using the app.
Download the SafeWA app from the Apple App Store or the Google Play Store now.
The COVIDSafe app speeds up contacting people exposed to coronavirus (COVID-19). This helps us support and protect you, your friends and family.
Get the app
COVID-19 Government Website Links
Members of the public are also encouraged to go to the following online resources for up to date information:
Contains important information on COVID clinics and current advice.
Contains a number of fact sheets to answer the many questions currently being asked by the community and different industries including advice for employers.
WA State of emergency declarations and directives.
Includes the WA Government Pandemic Plan.
Information on Government services and payments.
COVID-19 statistics including heat map.
Migration Council Australia (MCA) has developed a Government sponsored multilingual resource for Australia's culturally and linguistically diverse communities about COVID-19, its impact and available support.
Reduce your risk
Wash hands often with soap and running water, for at least 20 seconds. Dry with paper towel or hand dryer.
Try not to touch your eyes, nose or mouth.
Cover, cough or sneeze into your upper sleeve or elbow, or a tissue and then bin it..
Isolate yourself at home if you feel sick. If you take medication ensure you have adequate supplies.
Phone your GP first if you need medical attention. They will tell you what to do.
Continue healthy habits: exercise, drink water, get plenty of sleep.
Don't wear a face mask unless you are unwell.
Buy an alcohol-based hand sanitiser with over 60 per cent alcohol.
Get the flu shot.
Maintain social distancing.
Only leave home if it is essential.
Shire COVID-19 Media Releases

4 November 2020 - New direction for COVID-19 Emergency Relief Fund
3 July 2020 - Planning Approval Exemptions and Future Reform Exemptions
15 June 2020 - Crisis and Emergency Relief Support
15 May 2020 - Re-opening of Shire of Manjimup Libraries
13 May 2020 - Manjimup Sends A Message Of Hope Around The World
12 May 2020 - What Does Phase Two Mean For Us
28 April 2020 - Parks and Playgrounds Still Closed
22 April 2020 - Shire of Manjimup COVID-19 Recovery and Response
14 April 2020 - More Relief for Ratepayers
8 April 2020 - Rent Relief to Help Business Through the COVID-19 Downturn
6 April 2020 - Rethink Holiday Plans to the South West
1 April 2020 - Concerns for Transient Workers
31 March 2020 - Self Contained Parking Trial on Hold
31 March 2020 - Shopping Services and Support
30 March 2020 - Closure of Playgrounds, Parks and Skate Parks
27 March 2020 - Council Freezes Increases in Rates, Fees and Charges for 2020-21
27 March 2020 - Council Acts Responsibly on COVID-19
26 March 2020 - Travellers Urged Not To Visit
25 March 2020 - Library Information, Closure of Libraries
24 March 2020 - Closure of Community and Recreation Facilities
25 March 2020 - Windy Harbour Campground Closure
24 March 2020 - AquaCentre Group Activities Suspended
16 March 2020 - Coronavirus (COVID-19)
Mental Health Support
The Coronavirus is having a significant impact on our lives and the way that we live. It is important now, more than ever to take care of your mental health and watch out for those around you.
With many of our usual methods of stress relief and relaxation off the table, we must be mindful of keeping to a healthy, active lifestyle and finding new ways of getting exercise and different activities to keep our minds active and healthy.
If you are feeling overwhelmed try and switch off from the constant media and get the information that you need once a day from a reputable source.
There are many organisations ready to help you overcome anxiety. If you or someone you know needs help please reach out to your GP or one of the organisations below.
Tips to beat the boredom
Use these resources to help self isolation...
Beating Boredom During Social-Distancing